Details

Written by

August Edmunds

Category: Uncategorised
Hits: 8623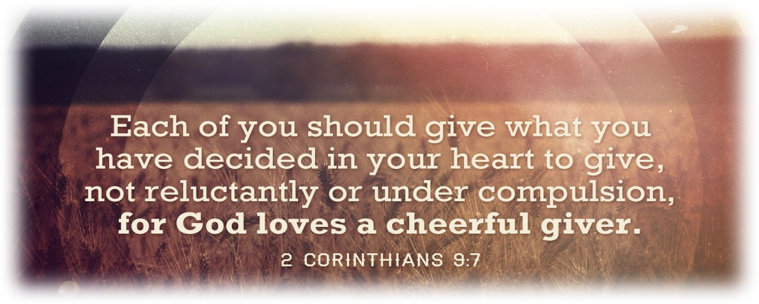 This option allows you to make a secure online
contribution to your church. 
To make a contribution. Simply click on
the "give" button below.



This option allows you to make a secure online
contribution via your mobile phone.

• Just enter a dollar amount
• Send a text to 1-902-200-2339
• Ex. Text 20 (tithe of $20 CDN)
• First time users will be prompted for next steps






If you prefer the way of Traditional Envelopes please
email our church admin so you may
be provided with a Member #.

This will ensure that we provided you
with a proper tax statement.

Envelope are available in the Foyer of
our campus churches, or ask an Usher.  











You may also GIVE through online banking!

Just add "New Beginnings Ministries" as a
Payee for one time or recurrent donations, or

Bank eTransfer to This email address is being protected from spambots. You need JavaScript enabled to view it.
*All Giving Tax Statements will be mailed or emailed to you in the first quarter of the year.
Questions About Online Giving? Email Us This email address is being protected from spambots. You need JavaScript enabled to view it. or Call 902-434-1976
Note: Please allow 24-48 hours for your transaction to post to your giving record.
Details

Written by

August Edmunds

Category: Uncategorised
Hits: 3352
Thank you for visiting New Beginnings Ministries online. We hope that our website is enjoyable, resourceful and inviting.
Whether you are looking for a church home, if it has been a long time since you've attended church, or are totally new to the 'church thing', our goal is to make you feel a part of our family. 
Here at New Beginnings Ministries we strive to be a Christ-Centered, Spirit-led, Multicultural and Contemporary family of God.
This website will help you with any questions you may have as to who we are, what we believe, and what we do. We want everyone to experience acceptance, authentic relationships and a longing to get connected.
Thanks for visiting our web site and we hope to see you soon may God continually bless you.
Details

Written by

August Edmunds

Category: Uncategorised
Hits: 7489
God
We believe there is one, and only one, living and true God. God is an infinite, intelligent Spirit that is the maker and supreme ruler of heaven and earth. God eternally exists in three persons, the Father, the Son, and the Holy Ghost, equal in every divine perfection and executing distinct but harmonious roles. (Genesis 1:1, Deut. 4:35, Matthew 28:19; 1 Peter 1:2)
The Bible
We believe the Holy Bible was divinely inspired by God and written by men without error. All scripture, New and Old Testament, is good for doctrine, reproofing, correcting, and instructing each other in love. (2 Timothy 3:15-17)


Jesus Christ
We believe Jesus Christ was conceived by the Holy Spirit, born of the Virgin Mary, lived a sinless life, and is the Savior of men. Christ died on the cross for the sins of the world, was buried and rose from the grave and is seated with the Heavenly Father. (Matthew 1:23, Hebrews 7:26, 1 Peter 2:22, 1 Corinthians 6:14, Philippians 2:9-11, Hebrews 1:3)


Salvation
We believe Salvation is a gift given through grace that cannot be earned or bought. Salvation requires verbal confession that Jesus is Lord, and belief in your heart that God raised him from the dead in order to be saved. Once you confess and believe, you are sealed by the Holy Spirit and your salvation cannot be lost. (Romans 6:23; Ephesians 2:8-9; John 14:6, Titus 3:5; Galatians 3:26; Romans 5:1)


The Church
The Church is the dynamic, spiritual body of which Jesus is the head. All those who put their trust in Jesus are a part of the Church. Local churches are expressions of the universal church. Baptism and the Lord's Supper are ordinances or sacraments that the church practices. (Colossians 1:18, Acts 2:41-42, Ephesians 1:22-23) A Relationship with Christ: John 3:16 – "For God so loved the world, that he gave his only begotten Son, that whosoever believeth in him should not perish, but have everlasting life."
God loves you so much that He not only tells you but He shows you by offering you a relationship with Jesus Christ. Salvation (your relationship with Christ) is a gift that is made available to those who repent, believe and confess that Jesus is Lord (in control of everything in the world) and that He died and rose from the dead to save mankind (Acts 16:31; Romans 10:9-10). This gift cannot be earned through good deeds or by simply being a "good person" (Ephesians 2:8; 1Timothy 1:9). It is a matter of faith (acting out on what you believe according to God's Word concerning your relationship with Jesus Christ).
You can have a personal relationship with Jesus Christ 

The steps are as simple as
A- B- C
 
Admit
 that you've made mistakes (sin) and you need God in your life
Believe
 Jesus died and rose again for your mistakes (sins)
Confess
 with your mouth that Jesus Christ is Lord


How do you accept the gift of salvation
(Romans 10: 9-14)
 You can invite Jesus into your life by praying this prayer. It is not the prayer that saves you but the belief that Jesus died and rose again for you.
"Heavenly Father, I admit that I am a sinner in need of you. Please forgive me of all my sins (disobedience). I believe that Jesus is the Son of God and that He died for my sins (disobedience) and rose again with all power in His hands. I accept your Son Jesus as my personal Lord and Savior. Thank you for saving me. In Jesus name I pray. Amen."
If you have just accepted Jesus in your life, the next step is to be discipled. We would love to hear from you and help you grow in your new relationship with Jesus Christ. Call (902) 433-1044. We will pray with you, for you, and support you in the next steps of your new life in Jesus Christ!
Details

Written by

August Edmunds

Category: Uncategorised
Hits: 7873
New Beginnings Ministries was officially founded Easter Sunday, April 12, 1998, when 75 people attended worship in the home of Rev. Glenn & Kathy Gray.  From the very beginning, the move of  the Holy Spirit was active in the ministry.  September 24, 1998 marked the first Baptism, held at Regal RoadUnited Baptist Church, under the leadership of Rev. Dr. Frank Guinta.  Starting with 38 members, by December 31, 1998, our total membership was 74 active members.  On April 24, 1999, New Beginnings was received into the Halifax Baptist Association, wherein Pastor Gray served as Moderator for a two year term. During this season, NBM made its home at Ross Road Elementary School.
In November 2003, NBM purchased land to construct our own facility at 26 Cherry Brook Rd, Westphal NS. With the generous support of its members, convention, association, and well-wishers, funding was secured to build its multipurpose sanctuary in March 2005. NBM entered the doors of our "House of Worship"  at 26 Cherry Brook Road on Sunday, October 8, 2006.  
What makes the church exceptional in the Dartmouth area are its members who are well-known for their warm spirits, bright smiles and caring hearts to serve the community. The internal spirit of NBM is amazing.  Perhaps even more distinctive, is the real life experience of diversity and multiculturalism that exists.  People from all walks of life, young and old, rich and poor; male and female, Caucasian, African Nova Scotian, Acadien, Mi'kmaq and many other immigrant groups, worship and minister together as one body in Christ.  
With the announcement of retirement of Rev. Glenn Gray in 2010 and subsequent retirement in 2012, NBM prepared for its future. In 2011, the Board of Directors began a search for a new Senior Pastor. The Lord guided the search beyond the Canadian border to Brooklyn, New York where the Spirit directed them to Rev. Kirby Spivey III.
Pastor Spivey officially began as Senior Pastor on July 1, 2012. Pastor Spivey is a powerful preacher/teacher and a progressive visionary leader. In a very short time, NBM has seen tremendous growth in all aspects of the ministry. The Selah Women's Ministry, Genesis, YGC, & SOS are a few examples of ministries that were started and are now flourishing under Pastor Spivey's leadership. In 2013 NBM hired its first full time staff position of Youth Pastor. In two short years, NBM has designated over $150,000 in ministry outside the walls of the church building. In fulfillment of our 2020 Vision, NBM launched its 'North' campus September 11, 2016. Our ministry focus is not just to come to church, but to 'be the church' in the community. 


Details

Written by

Caleb

Category: Uncategorised
Hits: 3403
It is important for each of us to contribute to the Vision that God has given to this body of believers. Your Feedback is Valuable: Let's Talk! If you have any suggestions to better serve our Church Family, concerns or compliments and needs the Church Family can fulfill, please print and fill out the "Let's Talk! Feedback Form" and place in the box in the church lobby. You can also obtain a paper copy of this form next to the box.