Our Pastor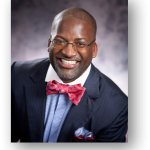 Rev. Kirby Spivey III
Senior Pastor
A visionary pastor and cultural trendsetter, Rev. Kirby Spivey III is a passionate leader serving his generation. A U.S. citizen, in July of 2012, he was transplanted to Halifax, Nova Scotia Canada and became the second pastor of New Beginnings Ministries.
Since then, Pastor Spivey has led the multicultural, multi-generational, and now a multi-site congregation to become the exciting and thriving church for "real and regular people."
Pastor Spivey holds a Bachelor of Arts degree in Religion and Anthropology from Bucknell University in Lewisburg, Pennsylvania; a Master of Divinity degree & a Master of Theology degree from Princeton Theological Seminary in Princeton, New Jersey. He is also a proud member of the Kappa Alpha Psi Fraternity, Inc.
He has a versatile gift and speaks and teaches frequently in universities, seminaries and churches in Canada and the United States. Pastor Spivey has brought with him a fresh wind and fresh fire that breathes life into the brokenness of society and the dry bones in hurting people. Two causes that are close to his heart are Youth Advocacy and Mental Illness. A very short time after his arrival, he was confronted with gun violence that took the life of a young African Nova Scotian male, full of promise and potential; and the pervasive and cultural normalcy of sex trafficking. This led Pastor Spivey, with other pastors, to found SOS (Save Our Sons/Sisters Mentoring Society.) In 2015, a young African Nova Scotian male, who Pastor Spivey had mentored, tragically committed suicide. Breaking his heart, he promised to do everything in his power to break the silence and the cycle of stigma and shame associated with mental illness. Pastor Spivey has brought mental health care providers into the congregation, and started ministry circles for those with, and those affected by mental illness. He is the proud father of five sons: Kirby IV, Asante, Tyrin, Khalil and Josiah.